Trade & Industrial Policy Strategies (TIPS) in partnership with the South African Research Chair in Industrial Development, based at the University of Johannesburg, and in association with the Green Economy Coalition (GEC), hosted its 2017 Annual Forum in Pretoria from 13 to 14 June, 2017. The topic of the forum was Industrialisation and Sustainable Growth, and it was attended by Mr Martin Cameron from TRADE Research Advisory Pty Ltd and Prof Wilma Viviers from TRADE @ NWU .
Mr Martin Cameron, on behalf of Prof Wilma Viviers and Lolette Kritzinger-Van Niekerk, presented a paper titled: 'The need for coordinated renewable energy, trade and industrial policy – avoiding unintended socio-economic consequences.'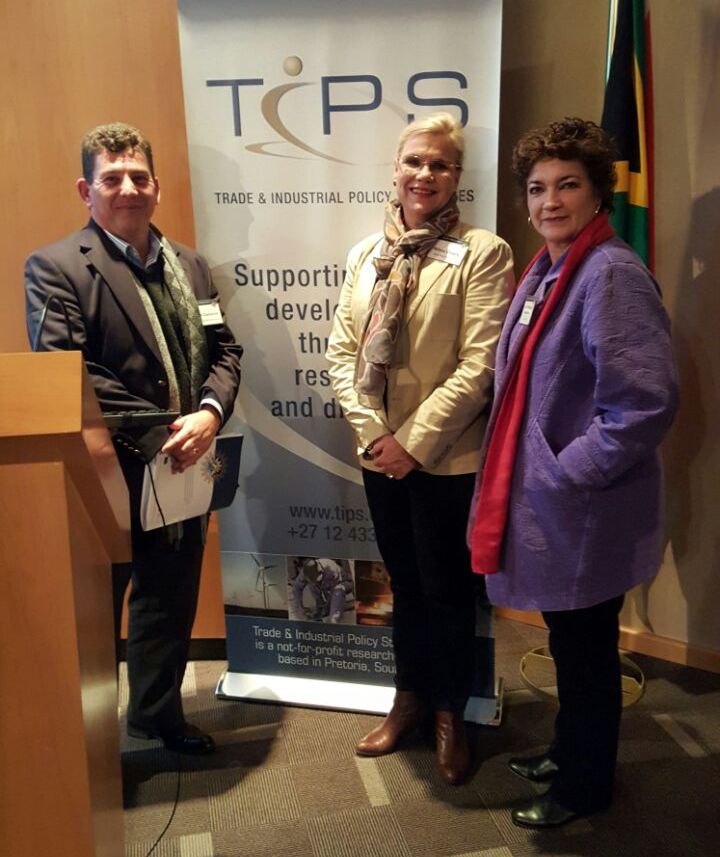 Trade Research Advisory (PTY) Ltd Managing Director, Martin Cameron and Prof Wilma Viviers and head of the economic research unit of the South African IPP Office, Lolette Kritzinger-Van Niekerk.
International TRAde and DEvelopment Research and Advisory Services
Quantitative Analysis & Modelling, Economic Impact Studies, Strategy Formulation, Policy Support
Specialised market research